Murf's Inn share house is closer than the Hampton's. We are located on Fire Island in the town of Kismet, New York just 47 miles from NYC. Two short blocks from the beach. So, weather you're looking for a summer destination, a summer of memories, or just escaping to the beach. why not spend it with us.
We are a laid back mature house and the age group is anywhere between 35-45 years. We know how to enjoy life, the beach, the sun, a great meal, dancing, drinking, and laughter. We always welcome new faces and new experiences. They say Fire Island is sleep away camp for adults, but without the hassles of the Hamptons where the driving around keeps people from getting to know each other, we have a lot of fun from The Annual Kismet Great Burger Cookoff, the Guac-Off on the beach, or the Pig Roast Fundraiser, the holiday block parties, or just getting together on deck for sunset cocktails, you'll be meeting plenty of folks just like yourself, who you'll look forward to seeing again and again.
The lure is apparent as soon as you step foot on this amazing island. No matter what your choice of daily activities might be, from fishing, paddle boarding, boating, biking or simply exploring the beauty of the sea, sand, and friends, you will appreciate the beauty of this narrow strip of land resting just south of Long Island, you will never forget the experience.
Then perhaps a glass of wine to wind down, watch the sunset, and get ready for dinner. Don't worry about the night's plans; there'll be some fun at the house, maybe gather around the fire pit, or walk down the block to the Kismet Inn for some live music and a game of pool, or some drinks and dancing over at The Surf's Out or perhaps a water taxi ride to ocean beach to explore the nightlife there. Remember, Relax…it's Kismet, Get there fast…take is slow
---
About The House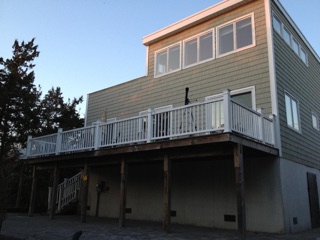 House is New, built in 2006
Stainless steel appliances and granite counter-tops
WiFi
Central Air Conditioning
2 1/2 baths plus outdoor shower
5 bedrooms, 3 of which have access to lower level deck.
2nd floor has a huge kitchen & living room w/flat screen TV and wrap around couch with access to upstairs deck and BBQ.1/4 share is $1,650 or 1/2 share is $3,000 weeks start Friday at 1PM and ends the following Thursday (last ferry)
Season goes from mid April to the end of September
There's no subletting
We do not overcrowd the house
2 peeps per bedroom & you are guaranteed your bed on your week/end – from start to finish —

week of Aug 24 – Lori brings her family out midweek (Monday – Thursday)
If your scheduled for 8/26 week you can pick any another mid week to come out!  Just give me notice – so I can schedule It, so we can avoid any overcrowding!

no guest fee first time out / 2nd Time out $100 per night
staples and maid included